Park Clinic: Corona Virus response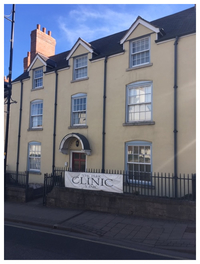 Dear Patients CORONA VIRUS - LATEST UPDATE 02nd APRIL 2020

FOR EMERGENCY APPOINTMENTS ONLY PLEASE RING 07800 801427

For general enquiries and to speak to an Osteopath please ring 01745 813718 or 01352 753331
Our plan now over the coming weeks is to keep an emergency only service open both in Mold and Denbigh. The Mold practice will be open for emergencies on Thursdays and the Denbigh practice on Wednesday mornings. We will not be able to provide a service in Rhyl at Clarence Medical Centre for the present time.
We feel we provide a service which is important to help workers stay in work. We do a lot of work for the In-Work Support Service (RCS) and we want to keep this going. We are a primary health care provider; we treat many health and care workers and we want to provide an ongoing service into the foreseeable future.
Appointments slot will be longer so as to allow 1 patient in at a time and allow for a complete clean between appointments. Only one practitioner will be in the building at one time to stop multiple patients in the waiting room.
We are asking every patient these questions.
1. Have you or any of your household and close family returned from abroad in the last 14 days?
2. Have you or your family or close contacts had a fever, cough, sore throat or a cold in the last 14 days?
3. Have you or any of your close family stayed overnight in London in the last 14 days?
If you answer yes to any of these questions please phone the clinic to talk to Jayne and don't come to the clinic.
We will, of course, ask you again these questions at the clinic and take your temperature before proceeding with any treatment.
We will be maintaining a reception facility during office hours where you can contact the clinic with any queries both medical or otherwise. Even if it is just for a chat we will be glad to speak and help in any way we can. The facility will be available for the duration of the crisis. Our practitioners are here to help, many problems can be helped with phone diagnosis and advice.
If I or any of the practitioners get infected with the virus and make a proven recovery, we will be offering a home visit service as well.
The situation seems rather bleak at the moment however I feel that when we get used to the new norm it may lead to a greater level of caring and empathy within our community.
We intend to be as helpful as we can during the whole corona virus period.
It is during these exceptional times that we realise how precious life is and how important everybody is to each other. We are blessed living in North Wales and if you have to be locked down anywhere in the world you wouldn't want to be anywhere else.
Keep your chin up, keep positive and keep in touch.
Kindest regards
Ianto and all at the Park Clinic



Welcome to Park Clinic Website

The Park Clinic was established in 1989 to provide a high quality Osteopathy and Acupuncture service in North Wales.
Over the last 21 years we have grown and now have 3 Clinics in Denbigh, Mold and Rhyl, with 4 Osteopaths and 2 Acupuncturists providing help and treatment for a wide variety of ailments.
We specialize in the treatment of your health problems. For up to date information, please see our blog, which will also allow you to interact directly with ourselves.

For 2 hours a week our Principal Osteopath Ianto Powell will hold a live Q&A session so if you have a query use the contact form to let us know, and we will do our best to answer it.
Check out the FAQ's within each therapy your question may already be answered.
Check out our self help pages see if we can help immediately.
If you have already visited our clinic let us know how you got on, fill in our satisfaction survey, we want to be challenged, we want to improve our service, we can only do this if we get honest feed back.
We are striving to be the best you can help us achieve this.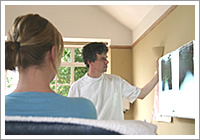 We have different therapists available for different treatments. Find out more about our Therapists.
Ianto Powell (Acupuncturist &Osteopath)
Diane Kane (Osteopath)
Christopher Holroyd (Osteopath)
Jayne Jones (Ear Wax Removal)