Park Clinic: Corona Virus response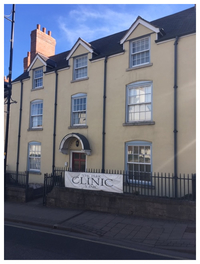 LATEST NEWS FROM PARK CLINIC Oct 2020

Our latest position at the moment is we are going to remain open throughout the lockdown and into the rest of the year. We are classed as a Key Service and are unaffected by lockdown restrictions. That also includes Acupuncture. After some to-ing and fro-ing, the Welsh Government has realised Acupuncture is a key service and we can remain open for the treatment of illness and injury.

In my previous post, I was probably over-optimistic about the timescale of returning to a normal service.

It is obvious now we have to remain very cautious about the pandemic and its consequences, as such our present working conditions will remain into the New Year.

Only one practitioner in the practice at any one time and no on-sight reception cover along with more spaced out treatment times to provide extra time for cleaning between patients. We feel this creates the safest environment for all of our patients, the reception staff and our practitioners.
Face mask should be worn before entering the building.

Also due to the Rhyl practice being within Clarence Medical Centre we will not be able to re-open the Rhyl practice. However, many of our Rhyl patients have transferred over to the Denbigh Practice.

I think we are doing exceptionally well continuing to provide face to face, hands-on treatment services in trying circumstances when so many healthcare services have been drastically reduced or cancelled. I would just like to thank all our staff for continuing to work with all the difficulties to help provide our healthcare services within North Wales.

We will let you know if there are any changes to our workig practices.

Kindest Regards
Ianto and All the staff at Park Clinic











Welcome to Park Clinic Website

The Park Clinic was established in 1989 to provide a high quality Osteopathy and Acupuncture service in North Wales.
Over the last 21 years we have grown and now have 3 Clinics in Denbigh, Mold and Rhyl, with 4 Osteopaths and 2 Acupuncturists providing help and treatment for a wide variety of ailments.
We specialize in the treatment of your health problems. For up to date information, please see our blog, which will also allow you to interact directly with ourselves.

For 2 hours a week our Principal Osteopath Ianto Powell will hold a live Q&A session so if you have a query use the contact form to let us know, and we will do our best to answer it.
Check out the FAQ's within each therapy your question may already be answered.
Check out our self help pages see if we can help immediately.
If you have already visited our clinic let us know how you got on, fill in our satisfaction survey, we want to be challenged, we want to improve our service, we can only do this if we get honest feed back.
We are striving to be the best you can help us achieve this.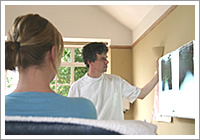 We have different therapists available for different treatments. Find out more about our Therapists.
Ianto Powell (Acupuncturist &Osteopath)
Christopher Holroyd (Osteopath)
Jayne Jones (Ear Wax Removal)

Gaynor Gaynor (Acupuncturist)